by Jeanine Beuttner, with photos from Pat Jaquith
nammy@montanasky.com, pat@westvalleynaturalists.org
My great grandfather Charles Keller was born in Miltonburg, Ohio on July 13, 1868, My great grandmother Rosalia Keller was born in Stutten, Germany, October 10, 1869. They were married in 1892 in Nebraska, where they lived until the late 1800's when they settled on a homestead at Lothair, Montana. In order to prove up on the property Rosalie stayed on this place and Charles came to Kalispell and homesteaded 160 acres on West Spring Creek Road in 1900. They also homesteaded 80 acres on what is now known as the Grosswiller dairy on West Valley Drive, 80 acres on Browns Road where they wintered the horses, and also a wood lot up Rhodes Draw. They farmed all of these pieces of property.
Charles and Rosalia were parents to 10 children, 6 sons and 4 daughters, my grandfather Herman being the third son. In later years the boys split up and lived on all the homesteads. The Lothair property is still in the family.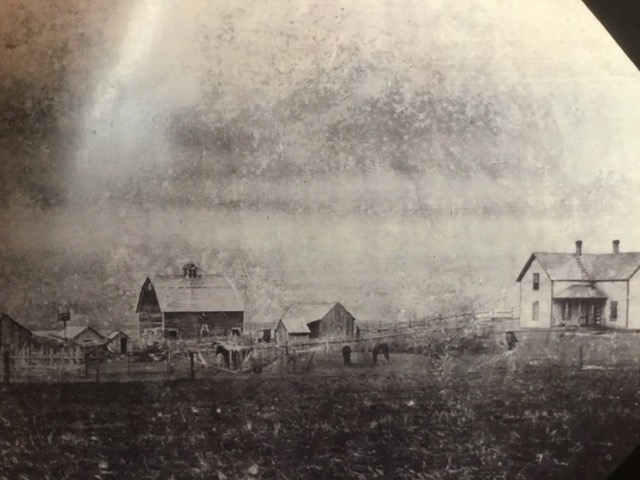 In this picture the garage closest to the house had a front door and a back door. Charles eventually got a car but could not back it up so the need of a front and back door. My dad used to tell the story of a large hole being next to the house. They would dump carbide powder into it with water and mix it with long polls. This then became the gas that powdered their gas lighting in the house.
The pump house next to the house had a large tank in the ceiling. It was filled with water and it gravity fed the house and for all the livestock in the corrals down below. (The tank was still in the pump house when they tore it down). Charles and Rosalia eventually moved to Kalispell and took their milk cow with them. You still see some of the older homes in Kalispell with a barn in the back. Room for the milk cow.
Charles passed away in 1953 and Rosalia in 1957. The house was burned down by an arsonist in 2012.
The following photos are from Pat Jaquith.