by Jeanine Buettner
nammy@montanasky.com

The Spring Creek Cemetery first opened in 1895 on the site of the Spring Creek Methodist Church. The church and cemetery were established by Mr. John Milton Eastland. Mr. Eastland was not an educated man, but old-timers here in the valley remember him as a good gospel singer and a talented speaker.
John Eastland was born in Kalamazoo County, Michigan in 1847. He came to Montana with a wagon train in 1873 and settled first on land where the University of Montana in Missoula is now located. From there he moved to Hamilton. He homesteaded the Hamilton townsite and later sold his property to Marcus Daley. He came to the Flathead Valley in 1888 and settled just east of the Flathead River. During this period of time, Mr. Eastland had become an ordained Methodist minister, preaching to small groups who often met in various rural schools in the valley. Mr. Eastland organized church groups and preached in many communities including Spring Creek from 1891 to 1921. He was known as the Father of the Kalispell Mission.
During his first ten years of Flathead work Mr. Eastland established eight churches. Of these, he built and paid for five of them. The Methodist Ladies' Aid group of our Spring Creek and Stillwater areas raised money for worthy projects and ministered to the sick and cared for the needy. Newcomers to our community would have been welcomed into the circle. Certain social affairs became traditional. One was the picnic held in September of each year at the farm home of my great grandparents Frank and Ida Stiles (the large white house on the corner of West Reserve and West Valley Drive). The first picnic was held when the trip from Kalispell was made in a farm wagon. After the arrival of the automobile, the picnic became even more popular. In fact, on one occasion more than 100 people were in attendance.
The land for the north third of the Cemetery was donated by Cpt. Robert Palmer. One third was owned by the Methodist Church, and the last third was owned by Mrs. Walter (Nonmensen) Kraft. Her third was later given to the Church. The Methodist Church then relinquished all rights and interests of the church to the cemetery organization. In 1937, the Church was moved off of the cemetery grounds across the field and is now the Stillwater Grange Hall.
A plow has never touched the cemetery grounds and it grows native bunch grass and many wild flowers, as delineated in Pat's article. (See Editor's note, above.)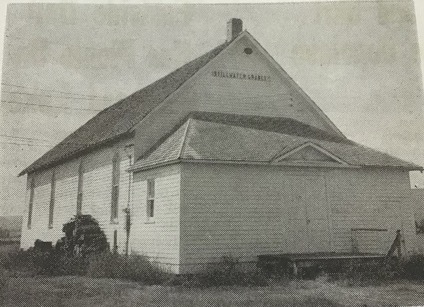 Twenty year old Frances Terry was the first person buried in the Spring Creek Cemetery in September of 1895. She was the daughter of Jefferson Terry of the Smith Valley area.