by Pat Jaquith
pat@westvalleynaturalists.org
Little gnomes of the forest have misplaced their slippers in many locations. From the time I've spent looking at them, it occurs to me that in some past life I might have lost my shoes and feel compelled to continue looking for them! Orchids have been my favorite plant family for years, but I had never seen a Calypso bulbosa before arriving in the West Valley. Since then, I've learned a lot about them, and this year I've come to understand how some of those facts fit together. In this article, I will share my pictures and the information I've learned about two Calypso bulbosa varieties, one nothovariety, and a variant that I have found.
Calypso is a reference to the Greek sea nymph Kalypso, the word meaning covered or hidden from view. There are four varieties of Calypso bulbosa in the world, two of which are found in this area. A third variety is found in Russia and northern Europe; the fourth is found in Japan, China, and Tibet. The americana variety is distinguished by the yellow hairs at the opening of the red-streaked pouch and the white or pink-colored lip. Americana is the most widely distributed variety.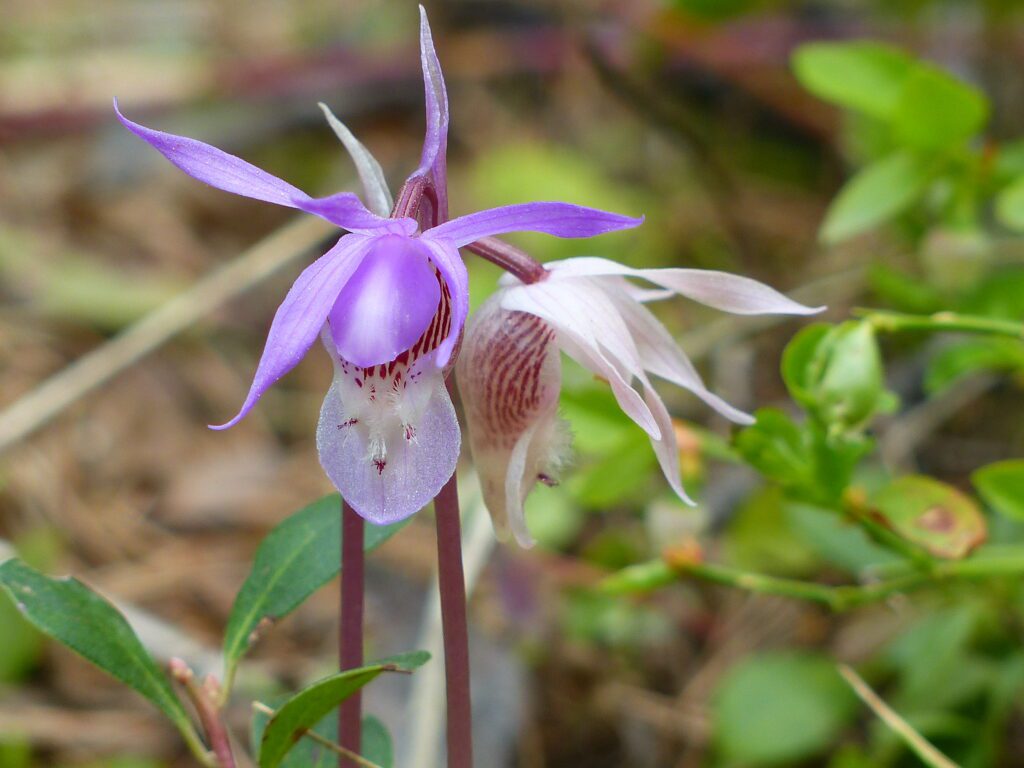 The occidentalis variety has white hairs at the opening of the pouch and often has purple spots or markings on the lamina (lip). Calypso bulbosa var. occidentalis are found in the west-central part of Montana.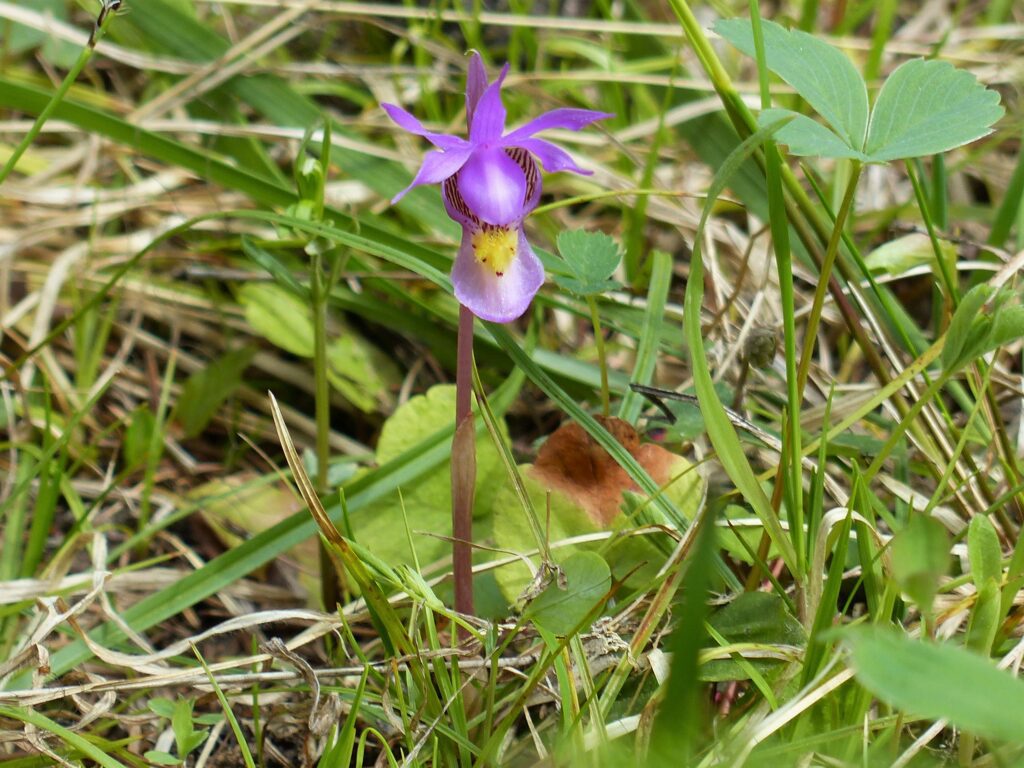 The image at the bottom is a hybrid, a cross between the two varieties above. This is called a "nothovariety" which refers to a hybrid which has become established in the wild. It is referred to as Calypso bulbosa x Kostiuke or Kostiuke's hybrid calypso. It has yellow hairs at the opening of the lip (from the americana) and purple mottling on the lip (from the occidentalis).
These fairy slippers are a variant or 'sport' – something that occurs occasionally or by chance genetic mutation. This plant is considered to be a var. occidentalis with the white hairs and mottled lip; the white bracts over the top of the pouch are without color (albino). I returned to the site where I had found these the previous year, but there were no albinos to be found.
Among the Calypsos, there are many color variations in depth of color, amount of spotting, and other 'normal' variations. I shall continue to bow down to look carefully at these diminutive plants whenever I see them. But as with all orchids, picking them, or even injuring the plant in any way is probably a death sentence. The post on this site written by Skip Via has additional information about orchids.