by Jeanine Buettner
nammy@montanasky.com
Walter Parke Jaquette was one of the Flathead's early pioneers. He was born October 16, 1863 in Oxford, Pennsylvania to Peter and Eleanor Jaquette.
Walter was from a very prominent Pennsylvania family. His great great grandfather Maj. Peter Jaquette served under Washington during the Revolutionary war. His great grandfather Capt. Peter Jaquette organized and furnished a great extent of company horses for the military. His father Peter L. Jaquette was a veteran of the Civil War and was at the White House when President Lincoln was assassinated.
Jaquette attended public school in Pennsylvania. In 1886 he headed to California for a short time and then in December of that year he came to Sheridan, Montana where he prospected for a time. He then came to the Flathead and moved onto his farm which eventually comprised of 240 acres. His first winter here he left for a time and then returned permanently the spring of 1887.  In April of 1896 he married Luella Belle Patton here in Kalispell.  She was born in 1866 in Pennsylvania.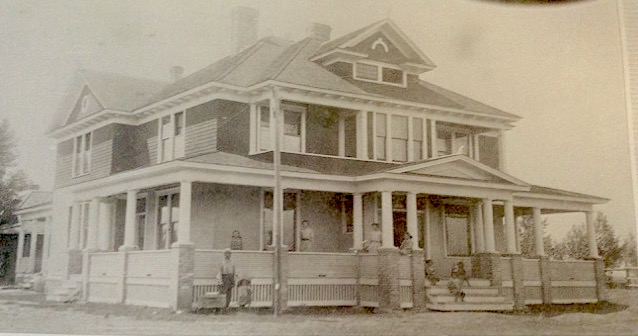 Their new home (pictured) located on the corner of Four Mile Dr. and Stillwater Rd.  (now where an apartment house is being built)  was built in 1908.  this home was well furnished with furnishings ordered and shipped from "Back East."  It was a large home with a parlor, living room, dinning room, library, pantry, milk room, kitchen and one bedroom and bathroom on main floor.  Upstairs there were 6 bedrooms and a bathroom, and on the third floor large attic.
With the new home barely being built Walter and Luella moved in with their seven children. On November 11, 1908 baby James was born and on November 16, Luella passed away.  Eleven year old Dorothy took over the duties of caring for her seven siblings and her grandfather Peter Jaquette. Eventually her aunt Mary came to help with the family. Mary married Walter in 1910 at the home of J.P. Blose by the well known pioneer Rev. George McVey Fisher. Mary passed away in 1924.
After Walter retired from the farm, it became a boarding house for a short time established by my grandfather Milton Stiles. It was even used as a granary. Gradually the house fell into disrepair and was sold to the Grosswiler Family in 1942.  Sadly the home was burned down and a new home was built.
After retirement, Jaquette moved into Kalispell to 46 5th Avenue West. He had purchased this home in 1905 along with a home on 1st Street West. These homes had been built by Elmer Bader who had come to the Flathead in 1891. Bader had purchased 2 corner lots for $1,000 in 1895.  In 1899 Bader opened his own lumberyard on this lot. Jaquette had rented out both of these homes until his retirement. This historic home shared the block with the Kalispell Malting and Brewing Co.  This home remains today and is known as the Ray of Hope.
Jaquette lived here until 1954.  He passed away at the home of his daughter Josephine Tayahla on September 5,  1958 at the age of 95.